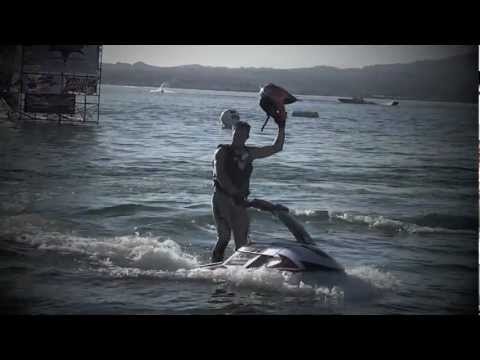 Steven s'y était préparé depuis 4 mois, il arrivait serein à Lake Havasu City (USA – Arizona) pour confirmer son titre de champion du monde 2011 dans la catégorie Reine (ProSki Open) aux World Finals, LA course légendaire du monde du Jetski.
Son Team XBJ Racing avait préparé des évolutions sur son Hydrospace, qui s'étaient confirmées être performantes lors de la victoire de son coéquipier Omar Abdulla AL Rashid en Pro aux Philippines quelques semaines plus tôt…
C'est sous un soleil de plomb que les festivités ont débutées à Havasu avec 40°C en moyenne. Les meilleurs pilotes étaient présents, parmi eux : Macclugage, Rius, Motzouris, Reiterer, De Sousa, Botti, Kurahashi, Sherker, Lopez… Mais aussi beaucoup de passionnés ont fait le déplacement pour assister à ce spectacle unique au monde.
QUALIFICATIONS

Lors des essais du samedi matin, Steven s'aperçoit que sa machine de course perd en performance et s'arrête, il est contraint de remettre son jetski aux mains de ses mécaniciens afin que ceux-ci le vérifient. En effet, le moteur se fragilise. Le team décide de faire courir Steven avec son BackUp (un jetski d'entraînement, moins rapide).
C'est alors avec une détermination plus grande que prévu que Steven s'aligne sur la grille des Qualifications. Il sait très bien qu'il n'a pas la machine la plus rapide et qu'il devra davantage faire appel à sa technique de pilotage pendant ces 7 tours de manche de qualification.
Le départ est lancé, il est 8e à la holeshot. Il réalise que ses concurrents sont rapides et que remonter ne va pas être simple. Il parviendra tout de même à effectuer des dépassements pour terminer la course à la 3e place.
1E MANCHE
Toute la nuit de samedi à dimanche, les mécaniciens Babou et Glane ont travaillés sur le jetski de course de Steven afin qu'il puisse s'aligner à égale puissance de ses concurrents sur les prochaines manches de dimanche. A 8h, toujours sans avoir dormi, ils partent essayer le jetski. La 1ere manche de Steven démarre vers 9h30, Steven se rend sur place et jusqu'à 9h15, toujours pas de Jetski, celui-ci n'est pas encore prêt. Steven ne sait toujours pas s'il va pouvoir participer à cette manche. 10 minutes avant le départ, le Jetski arrive enfin, Steven l'essaye rapidement avant de rejoindre ses concurrents sur la grille et réalise qu'il n'ira pas plus vite qu'avec son BackUp… Il est tout de même déterminé, et dit à son team en partant « j'ai simplement besoin d'une machine fiable, ne vous en faites pas, je suis venu pour gagner, pas pour faire une démonstration de vitesse en ligne droite… ».
Un départ catastrophique puisqu'il se fait doubler en ligne droite, il ressort 11e à la holeshot. A partir de là, il a 10 tours pour remonter. Ce sera d'ailleurs ce qu'il fera comme à son habitude pour se placer 4e à l'arrivée.
Omar, quant à lui, à reçu un prix pour sa superbe Holeshot lors de cette 1ere manche devant Macclugage. Le Team XBJ est toujours présent dans le top 3…
Classement : Kurahashi / Motzouris / De Sousa / Dauliach.
2E MANCHE
Cette seconde manche se déroule après le déjeuner vers 13h30 heure locale. Steven sait qu'il n'est pas donné favori pour le titre 2012, seul lui le sait, si la machine fonctionne correctement. Les mécaniciens travaillent sur le jetski pendant la pause. Steven essaye la machine 30 minutes avant le départ… Conclusion : impossible de courir avec cette machine, qui marche de moins en moins. Quelques minutes plus tard et de nouveaux réglages, la puissance du jet est à son maximum et Steven retrouve le sourire.
Il part alors en tête et s'empare de la holeshot et assure sa place pour économiser le moteur, qui perd en puissance au fur et à mesure de la course, et terminer 1er de cette manche.
Voici le résultat à l'arrivée : Dauliach / De Sousa/ Motzouris.
Le calcul de point est très simple, la place à l'arrivée correpond au nombre de points acquis, et ce sera celui qui a le moins de point qui remporte le titre. De ce fait, à l'issu de cette 2nde manche, Steven (4+1), De Sousa (3+2) et Motzouris (2+3) sont a égalité de points, c'est à dire 5.
C'est à la 3e manche (la finale), que tout va se jouer. Ainsi, le titre se joue entre Steven Dauliach, Motzouris et De Sousa !
Le spectacle s'annonce déjà grandiose, quand on sait que Steven veut confirmer son titre, Motzouris est un grand champion depuis des années, ex pilote Kawasaki USA avec Steven et que de Sousa est vice champion du monde derrière Steven l'an passé…
Steven fait part de ses impressions sur le jet à ses mécaniciens en fin de course, et leur annonce que celui-ci perdait en performance… A partir de là, on sait que le moteur peu lâcher à tout moment. Par sécurité, ils diminuent la puissance de la machine. Il risque de ne pas partir devant, mais c'est toujours mieux que de risquer de ne pas finir la manche… Motzouris et De Sousa sont très rapides, il va falloir se battre coûte que coûte…
3E MANCHE
C'est évidemment avec de l'appréhension pour le team, que Steven prend le départ de cette finale. La tension est à son comble, mais Steven semble tout de même le moins inquiété de l'équipe.  C'est parti le départ est lancé, et on attend de voir apparaître un jetski rouge et argent dans ce nuage de jet d'eau. Pas de Steven à l'horizon … le titre s'éloigne… Brice Lopez est en tête de la course, suivi de Motzouris (est le plus près du titre s'il reste second derrière Lopez). Steven ressort 7e.
On voit bien qu'il n'est pas rapide, mais alors il va commencer à se battre pour tenter d'aller chercher Motzouris. Au tour numéro 6, il est alors remonté très rapidement pour se placer derrière le Sud Africain (Motz) qui s'était éloigné loin devant. Motzouris qui assurait tranquillement sa place derrière Lopez commence à s'inquiéter, mais ne cherche pas à doubler Brice, de peur de faire une erreur ou de se faire géner et de perdre ainsi sa place pour le titre. Steven repère au 7e tour où et comment il va pouvoir doubler et s'emparer du titre… AU SAUT DE PNEU ! Il se prépare alors pendant un tour pour se rapprocher au maximum de Motz et être le plus près possible de celui-ci jusqu'au saut de pneu. Il est intéressant de revoir la course en vidéo pour s'apercevoir à quel point Steven prépare son dépassement plusieurs bouées avant, avec une technique de pilotage parfaite et si rapide ! Dernier virage avant le saut de pneu, qu'il prend d'ailleurs,on le voit, avec beaucoup de vitesse, il vient surprendre Motzouris en se plaçant à côté de lui et le dépasse pendant l'envole du saut de pneu !! Tout le monde retient son souffle devant ce nuage d'eau qui rendait la visibilité nulle, cette bataille entre le 2e et le 3e de cette course, à savoir qui allait devenir champion du monde entre ces 2 légendes du jet !
Et c'est Steven Dauliach qui sort devant, son dépassement au saut de pneu a réussit, et il prend alors la place du vainqueur du titre 2012. Mais il reste encore 2 tours, et la machine de Steven faiblit petit à petit durant la course. Il assure sa place,  ne souhaitant pas risquer le titre à tenter un quelquonque dépassement, mais Motzouris est toujours derrière. Steven le freine avant le passage du double circuit, pour que Brice prenne de l'avance, et qu'il ne gène pas Steven durant le passage du double circuit, où Motzouris pourrait encore faire un dépassement. Le drapeau blanc est sorti, le dernier tour est déterminant, Steven doit rester 2nd.
Il passe la ligne d'arrivée derrière Brice Lopez et devant Motz, et devient ainsi CHAMPION DU MONDE 2012 en Pro !! Il confirme ainsi ce titre qu'il avait remporté en 2011 avec son Team XBJ Racing !
« J'ai toujours dit que gagner est très dur à Havasu, mais confirmer est encore 2 fois plus dur. Le niveau est très très relevé cette année, j'aurai pensé que les pilotes m'auraient rendu la tâche difficile, mais en fait, c'est le jetski. Mon team a fait un super travail de pro qui correspond à ce que je suis capable de faire. A Havasu, il n'y a pas qu'une manche à gagner, il y en a 3. Et c'est encore moi qui ai gagné. Je suis quelqu'un qui parle très peu, car je pense que mes victoires parlent d'elles mêmes. J'avais dit l'an passé que j'arrêterai après Havasu, que j'ai gagné. A la demande de mon team, j'ai participé une nouvelle fois à cette édition, et je suis heureux de pouvoir terminer sur cette si belle victoire, pour laquelle je me suis battu ! C'était mon plus beau Havasu… « .
REMERCIEMENTS
« Un grand merci au Team XBJ Racing Maktoum, Rashid, Omar, Khaled, Rashid, Yousef pour ces beaux moments passés, c'est un Team soudé, avec lequel on rit beaucoup, merci aux mécaniciens Glane et Babou pour leur travail exceptionnel et leur implication.
Merci à JetPilot pour la combinaison « custom » Dauliach edition.
Des remerciements à Troy Lee Design Helmets, Spy Optic, Jettrim.
Nous remercions également Guillaume et Marion qui nous ont permis d'avoir de superbes images de cette course et ces moments intenses, sans qui nous n'en aurions que peu de traces.
Merci à ceux qui ont fait le déplacement pour voir le team gagner.
Et enfin, merci à tous les stagiaires de Dauliach Jetski School pour leur soutient si important et qui ont encourager Steven a participer à cette édition 2012, à ceux qui ont été indirectement impliqués dans la préparation de cette course durant les stages, pendant lesquels Steven allait s'entraîner avec son coach David Sicot lors des pauses déjeuner.
**************************
For english or other version of this article, please select your language on the bottom of this page, and this will translate the text.